On January 4, 2000, Mark Cuban made a heck of a good bet:
He bought the Dallas Mavericks NBA franchise for $285 million.
According to Forbes, the Mavs currently bring in about $300 million in revenues a year, mostly from broadcasting deals and ticket sales, with bottom-line profits of around $100 million.
But with pro sports teams, the big money doesn't come from those revenues. Instead, it comes from the franchise gaining value over time.
Case in point: according to Statista, as of last year, the Mavericks were worth $3.3 billion. In other words, Cuban is sitting on more than a 10-bagger.
Nice work if you can get it. So today, I'll tell you where you can get it.
High Passion — and Low Correlation
To set the stage here, let's begin with the obvious:
It's a tough time to be an investor.
Between 1980 and 2020, interest rates declined about 2,000 basis points, from about 20% to close to zero. That created one of the great asset bubbles of all-time.
But now the bubble is bursting. The first signs of failure are everywhere — in housing, in manufacturing, in consumer delinquencies. And inevitably, the shrapnel will hit the stock market and the bond market.
But certain alternative investments have very low correlation to traditional stocks and bonds. That means they can "zig," even if the financial markets "zag."
These are the investments we've been introducing you to recently: not just private startups, but also collectibles like fine art, vintage cars, or watches.
Today, we're diving into another such alternative, one that's infused with infinite passion: sports.
A New Boss
Traditionally, sports teams were simply part of their local communities, pushed forward by civic forces and home-town loyalty.
But as the value of broadcasting rights soared, the value of these teams skyrocketed. That's why Mark Cuban's Mavericks are now worth more than $3 billion.
Running sports teams today has become a bona fide business, underwritten not just by wealthy individuals like Cuban, but by professional investors and private equity firms.
The "new boss" is just as passionate about the team as the old boss — but they're equally as passionate about the dollars and cents.
Want to be one of the new bosses in this world?
Here's how.
Three Ways to Invest in Sports
There are many ways to invest in sports — from backing a new league or team, to financing a new stadium, to helping nurture an athlete's career.
Here are three ways you can invest today, starting with as little as $100.
Orange County Soccer Club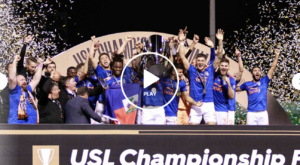 The OC Soccer Club (OCSC) is the USA's top player-development club, and its recent 10-year stadium deal is opening up new opportunities and boosting revenues.
The OCSC is part of the United Soccer League (USL). The USL is one of the most prominent Division II professional soccer leagues in the world. With 24 teams, the league reaches a population of more than 75 million people.
The USL has national media partnerships with ESPN and SiriusXM. It produces and distributes nearly 500 league matches and more than 1,000 hours of original content to national partners, local affiliates, and international markets.
OCSC has been in the league playoffs 4 of the last 5 years, and it won the championship in 2021.
Curious about investing? The minimum is $100, and the deadline is in mid-February.
ESTV
Looking for something more modern than traditional soccer?
Check out ESTV, a 24/7 video channel for esports and gaming personalities.

This is a massive market. Keep in mind that the Gaming sector is worth nearly $200 billion. That makes it far larger than the Music industry ($25 billion) or Filmed Entertainment ($100 billion).
Likewise, the potential for ESTV is enormous. According to News Direct, the audience for esports will reach 640 million people by the end of 2025. And per NewZoo, sponsorship dollars for esports will soon add up to nearly $1 billion.
ESTV has more than 50 distribution partners (including Amazon, Roku, and AppleTV), the world's largest esports archive (10,000 videos-on-demand), and more than 14 million unique monthly viewers.
The NRFL
As we know from the vast popularity of hockey and football, Americans love violent tackle sports. Well, here's your chance to invest in a tackle sport that might be even more violent and dangerous than all the rest: rugby.
Professional investors have been taking notice of the global growth of rugby lately, and have been trying to capitalize on it. For example, private-equity firm Silver Lake recently purchased a $200 million stake in the New Zealand Blacks, which valued the team at $2 billion.
With college rugby being one of the fastest-growing club sports in America, many believe the sport is set to explode in the U.S. And that's exactly why the National Rugby Football League (NRFL) was formed.
The NRFL aims to become America's first fully professional rugby league. And this investment provides investors with equity in the league's first eight rugby teams. One note: currently, this investment is only open to accredited investors.
Beware!
Keep in mind, all the typical caveats about investing apply here:
For example, don't invest more than you can afford to lose; invest in what you know; and be sure to dip your toe into the water before diving in.
Furthermore, many alternative investments, including investments in sports team, aren't "liquid." That means they can't be converted into cash at the snap of your fingers.
So don't invest your rent or grocery money into these offerings!
But if you're looking to invest like Mark Cuban, deals like these might be a great place to start.
Happy Investing.
Best Regards,



Founder
Crowdability.com