It's a challenging time to buy a house.
Mortgage rates are at nearly 8%, their highest level in 25 years.
But what if you could get a mortgage at 2% instead?
Now it's possible — and the U.S. government has given its blessing.
On a $500,000 mortgage, this could save you about $1,650 per month.
Today, I'll explain what you need to know.
A New Solution to a Growing Problem
A couple of years ago, Raunaq Singh was looking to buy a home.
But as mortgage rates kept going up and up, he soon realized he couldn't afford a loan.
After searching high and low for a way to accomplish his goal of home ownership, Singh came across a little-known loophole: assumable mortgages.
Assumable mortgages are a type of home loan where the seller can transfer his mortgage — and his low interest rate — to the buyer. So if the seller had locked in a 2% mortgage when rates were at historic lows, he can transfer that 2% mortgage to the new buyer.
For buyers, this could lower monthly payments by about half. And meanwhile, it could help sellers find many more potential buyers.
Singh had spent four years working at Opendoor, the real-estate company. So he quickly realized that, in today's economy, assumable mortgages could be a big business opportunity.
To launch his new business idea, he secured $1.25 million from venture capital firm Founders Fund and Eric Wu, one of the founders of Opendoor. Tim Mayopoulos, the former CEO of mortgage company Fannie Mae, then joined the company as Senior Advisor.
Singh calls his new company Roam.
Introducing: Roam
Roam is a licensed real-estate broker that focuses on assumable mortgages. Essentially, it connects sellers who locked in low mortgage rates with prospective buyers.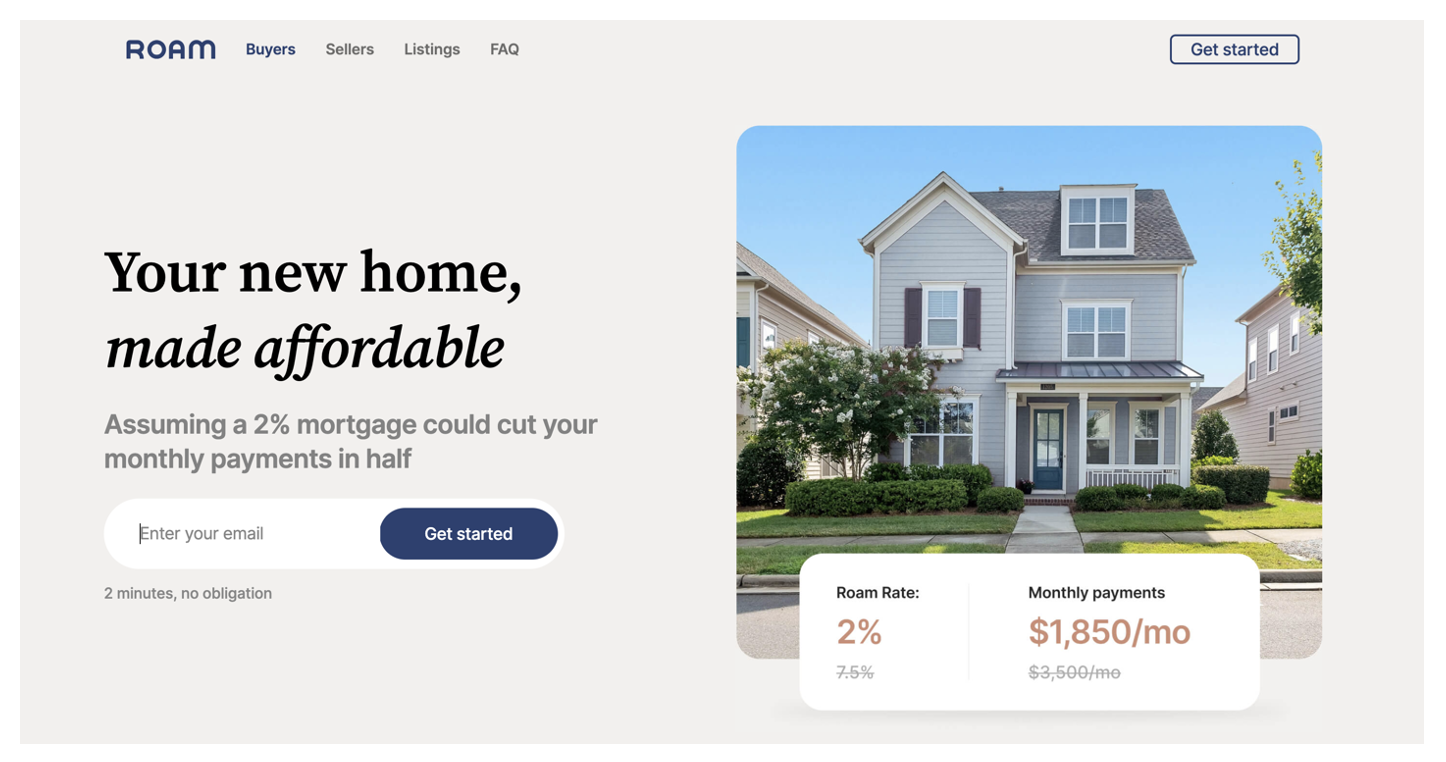 Like any good startup aiming to fix something that's broken, Roam aims to reduce friction for its customers. For example, it does all the work to find available properties with assumable loans, deals with the paperwork, and manages the entire process for buyers and sellers.
In exchange for its services, the company takes a one percent fee from a buyer's closing costs.
The Savings
Buyers are already taking advantage of Roam.
For example, in August, Jessica Pardinas and her family bought a four-bedroom home in Bowie, Maryland after assuming a Veterans United loan with a rate of just over 3%. She estimates the lower rate will save her about $10,000 a year. "It was a very welcome surprise," she says.
Other buyers could save even more. If you're paying 2% instead of 7.5% on a $500,000 mortgage, that would save you more than $1,650 a month.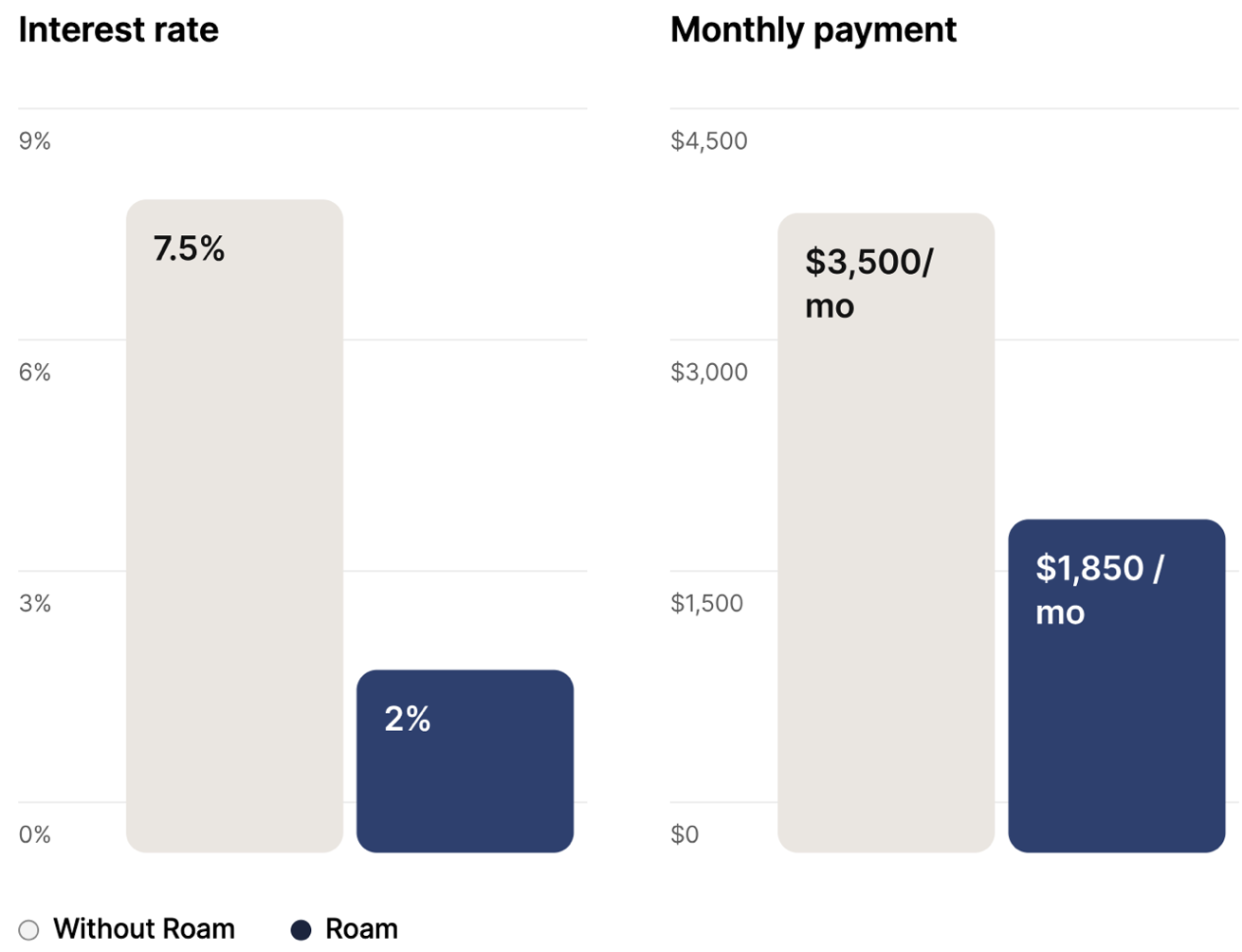 With more than 60% of U.S. homeowners holding a mortgage with an interest rate below 4%, the potential market for assumable loans is very large.
In fact, assumable loans are already becoming popular. As Chris Birk, vice president at VA lender Veterans United Home Loans said, "We're seeing more and more home listings referencing assumable loans and more interest from prospective buyers."
The Fine Print
The U.S. government has already given its full blessing to this practice. As Singh clarified, this is a "benefit given to you by law."
But not every mortgage is assumable. For a loan to be assumable, it needs to be backed by:
The Federal Housing Administration (FHA).
The Department of Veterans Affairs (VA).
United States Department of Agriculture (USDA).
According to Roam, this includes four million loans, which is about thirty percent of all U.S. mortgages.
Challenges
Of course, nothing is perfect. Here are a few of the main challenges facing Roam:
Only focused on FHA and VA loans. Many home buyers may qualify for FHA loans, which are guaranteed by the government and can be easier to get than traditional mortgages. But for the most part, only active members of the military or veterans can qualify for a VA loan.
Mortgage lenders might drag their feet. According to The Wall Street Journal, there's not much profit in assumable loans for lenders. As a result, they may be slow to process the necessary paperwork.
Roam isn't yet nationwide. Roam is starting out in five states: Georgia, Arizona, Colorado, Texas, and Florida. It expects to expand nationwide over time.
This Is What Startups Do
Despite these challenges, we believe Roam will play a part in helping Americans achieve their goal of home ownership.
This is exactly what startups are meant to do:
They identify a problem faced by millions of people — in this case, the soaring cost of buying a home — and they help solve it.
Furthermore, startups create jobs. According to the Small Business Administration, small companies account for 64% of new jobs created in the U.S.
And lastly, in helping to solve big problems, startups can become big and successful themselves. That's why they can be great long-term investments…
According to Cambridge Analytics, an advisor to institutions like The Rockefeller Foundation and Harvard University, investing in startups has returned an average of 55% per year over 25 years. That's enough to double your money every couple of years or so.
All this helps explain why, ten years after we started Crowdability, Wayne and I still get up in the morning excited to help ordinary people like you discover and invest in startups.
Happy Saving — and Happy Investing.
Best Regards,



Founder
Crowdability.com