I don't recognize my freezer anymore.
I mean, I recognize the freezer itself. I just don't recognize what's inside it.
It used to be filled with pizzas from brands like DiGiorno or Trader Joe's.
But not anymore.
Nowadays, it's stacked with offerings from companies like Banza, Tattooed Chef, and Blackbird.
Today, I'll tell you what's going on here — and how to invest in it for the biggest profits.
A Thriving Market
Since Covid showed up in 2020, 57% of Americans have reported eating fewer animal products. 57% is a huge number. This is indicative of a major trend.
Where are these consumers turning instead?
Plant-based products.
By 2026, the U.S. plant-based meat market is expected to hit $4.15 billion.
Brands like Beyond Meat and Impossible have captured a lot of attention. And many, including me, find their products delicious.
But their offerings certainly aren't healthy. They're full of artificial and ultra-processed ingredients, and they're also full of fat and calories.
This is creating a big opening in the market — plant-based offerings that are healthy.
Introducing: Blackbird
One brand taking advantage of this opportunity is called Blackbird.
Founded by chefs a few years ago, Blackbird creates plant-based frozen pizzas and meats.
Its products are already available nationally at 2,500 distribution points including Target & Whole Foods, and its annual revenue run rate is $4.4 million.
But of all its products, my favorite is its pizza.
First of all, they're delicious. Its pies have a hand-tossed pillowy soft crust, and restaurant-quality toppings.
As Entrepreneur magazine wrote, "Despite being a frozen food, [the company's manufacturing process] allows Blackbird's pizzas to look and feel rustic and restaurant-quality, rather than like machine-made, processed fare."
Maybe that explains why Blackbird is the #1 fastest-growing frozen pizza brand in the U.S.
Here are a few of its offerings:
But they're not just delicious… they're also healthy.
Check out how its products compare to offerings from competitors: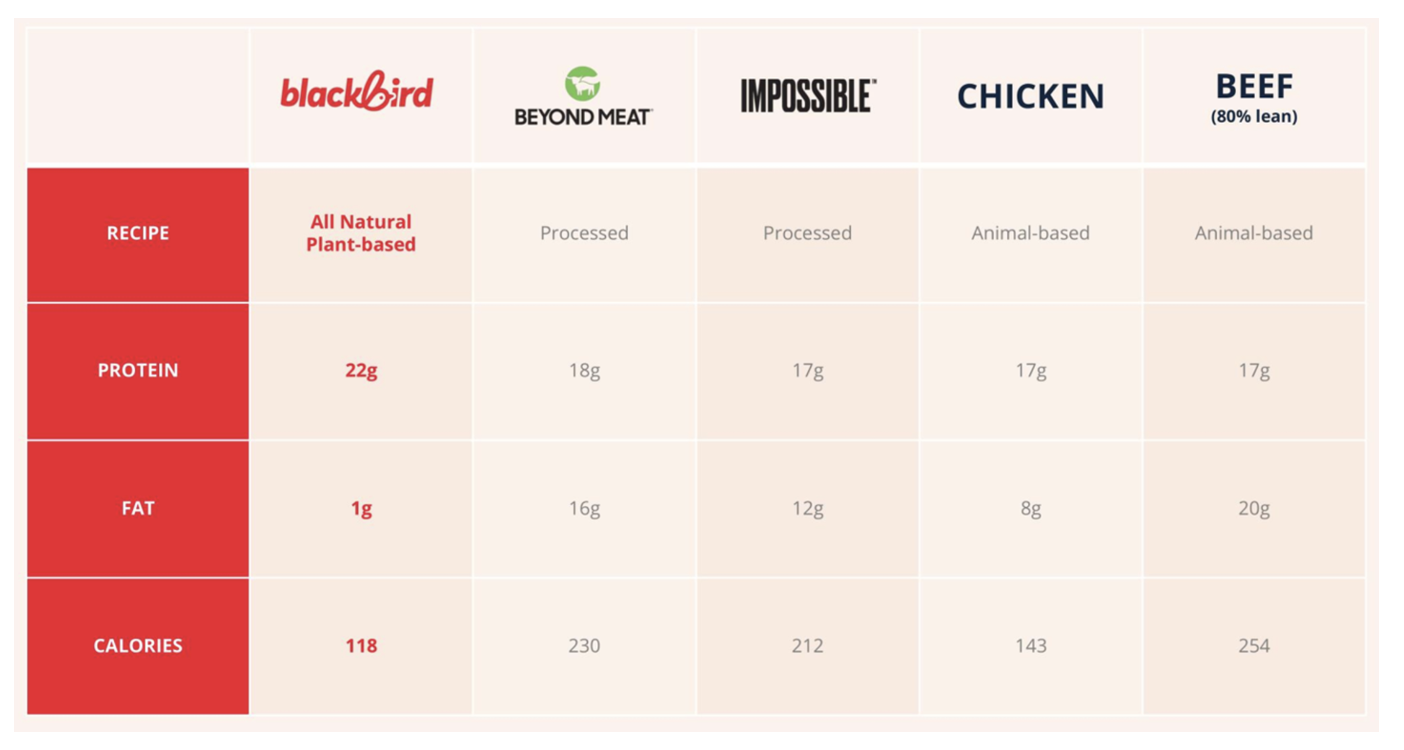 As you can see, its products are all natural, rich in protein, and low in fat and calories.
Bottom line: Blackbird is targeting a huge and growing market with a differentiated product.
Pros and Cons of an Investment
Blackbird is currently raising a funding round from investors like you.
Its valuation is $7 million (reasonable), and the minimum investment is $100.
Should you invest?
On the "pro" side, the company has an experienced team, and it's backed by professional venture capitalists. And as mentioned earlier, it's going after a huge market opportunity.
It's possible that Blackbird could grow considerably in the future. And it's realistic to think the company could find itself the target of an acquisition offer from a traditional CPG company that's eager to get access to a leader in this market.
That means early investors could potentially pocket huge gains.
But on the "con" side, given the size of this opportunity, it's likely there will be fierce competition. Some competitors will come from the legacy brands consumers are already familiar with — and those brands have deep pockets.
A Great Place to Start Your Search
I'm not recommending that you go out and blindly invest in Blackbird.
After all, this is still an early-stage venture. So be sure to do your own research before making an investment decision.
But if you're intrigued about the plant-based trend, this is a great place to start your search.
Happy Investing
Please note: Crowdability has no relationship with any of the startups we write about. We're an independent provider of education and research on startups and alternative investments.
Best Regards,



Founder
Crowdability.com