Amazon founder Jeff Bezos recently took a trip into space.
At precisely 8:12 a.m. Central Time, the rocket attached to his Blue Origin space capsule lit its engines. Bezos blasted upward, soon reaching an altitude of 351,210 feet.
At the peak of his flight path, Bezos was weightless. He unstrapped himself, and for three glorious minutes, he floated around the capsule and took in the extraordinary views of Earth and the universe.
The key to a successful mission such as this one — the difference between a joyful adventure and death — is precision.
That's why the eleven-minute flight was choreographed to the second.  And that's why Bezos brought along something special on his trip, something he'd paid $6,000 for.
Can you guess what it is?
"Nobody Leaves Home Without One"
Here's a picture of Bezos on the day of his mission into space:
Sure, you can see the name of his company on his shirt — Blue Origin. 
But what else do you notice?
His watch!
It's an Omega Speedmaster, the same model the Apollo 13 mission relied on in 1970.
Omega's been making Swiss luxury watches since 1848. Today, in addition to Bezos, its clients include Elon Musk, who's been seen wearing an Omega Seamaster Aqua Terra.
Bezos knew he'd be photographed widely on this day, which explains why he's wearing such a "statement piece."
Victoria Hitchcock, who advises the wealthy on fashion and personal branding in Silicon Valley,
says people in the tech industry have recently become fixated on watches. As she wrote, "Nobody leaves home without one!"
For example, Satya Nadella, the CEO of Microsoft, wears a Breitling Colt (about $3,100).
Mark Hurd, the co-CEO of Oracle, wears a Rolex Dayjust (about $7,100).
And Jeff Weiner, the CEO of LinkedIn, wears an Audemars Piguet Royal Oak (about $17,800).
Then there's Oracle founder Larry Ellison. In the picture below, he's wearing a Richard Mille RM 0029, which retails for about $170,000.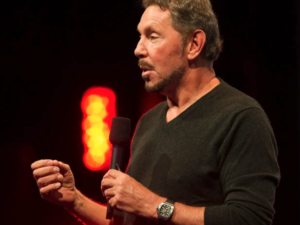 As Paul Altieri, founder of a watch-resale marketplace called Bob's Watches, said: "Across sectors, professionals select watches that broadcast their identity and aspirations. Watches remain profound personal statements regardless of whether one is developing software or sealing a game-changing deal."
With so much money being dedicated to these statement pieces, watches have become a big business, even their own asset class.
That explains why so many ordinary people are starting to invest in them, just like they'd invest in stocks or bonds…
An Alternative to Stocks and Bonds
To set the stage here, let me explain how most people invest…
Most folks stick with stocks, bonds, and ETFs. If they're adventurous, maybe they'll add some bitcoin.
But the rich invest differently. And this difference might explain why they keep getting richer.
You see, according to recent research from Motley Fool, the rich mainly invest in "alternative assets." What are these alternatives? Well, for starters, they include private startups and private real estate deals — the kind we focus on here at Crowdability.
But they also include "collectibles" like art, baseball cards, and you guessed it, watches.
As of 2020, the wealthy held about 50% of their assets in these alternative investments, and just 31% in stocks. The remainder was in bonds and cash.
Why would they do such a thing? Let's take a look.
Three Reasons the Wealthy Invest in Alternatives
For starters, investing in alternative assets provides diversification. So even if the stock market keeps crashing like it's been doing recently, these assets can keep growing in value.
Furthermore, they offer a hedge against inflation. In inflationary times like we're in today, that's a valuable trick.
But perhaps most important of all, they can provide market-beating returns.
For example, over the last 25 years, early-stage startup investments have delivered annual returns of 55%. That's about 10x higher than the historical average for stocks.
And meanwhile, according to the Motley Fool, over the last decade:
Wine has shot up 127% in value.
Classic cars have gone up 193%.
And rare whisky is up an astonishing 478%.
Watches, meanwhile, are in a league of their own…
Watch Me
It's not unusual lately for vintage watches to sell for millions of dollars.
For example:
A Patek Phillipe Stainless Steel Grand Complications sold for $7.2 million. Recognized as one of the most impressive editions of the Grand Complications series — it has a "Tourbillion," a calendar with moon phases, and a Minute Repeater — this 2015 watch sold at auction for 10x its lowest estimate.
A Rolex "Paul Newman" Daytona sold for $17.7 million. Manufactured in 1968, the watch was a gift to Paul Newman from his wife. This one features a unique dial design, with numerals for its seconds track matched to its sub-dials.
And a Patek Phillipe Grandmaster Chime sold for a whopping $31 million. This watch was designed for Patek Phillipe's 175th anniversary. It took seven years and over 100,000 hours to create. It's the most complex Phillipe watch ever built, and it features a special inscription, "The Only One."
So how can you start investing in watches like these — before they become so valuable, and for just hundreds of dollars instead of millions?
Let's take a look.
Investing in Collectibles
Recently, a new type of website has emerged to give ordinary people the ability to invest small amounts of money into everything from fine wine to fine art.
Essentially, just like you can buy a $100 stake in a startup, now you can buy $100 worth of a vintage Bordeaux, a classic piece of art from Keith Haring, or a multi-million-dollar watch.
For example, on Otis, you can invest in collectibles including baseball cards, limited-edition sneakers, art, and watches.
And on Rally, you can find everything from vintage Porsches to one-of-a kind offerings like the double-necked guitar used by Slash from Guns N' Roses. It also offers a secondary market, so you can aim to sell your investments at any time.
You can invest whatever you're comfortable with — $100 here, $100 there — and when the item sells, you receive your profits in relation to how much you put in.
On sites such as these, you can find watches from Rolex and Patek Phillipe, as well as Jeff Bezos' choice, Omega. For example, an Omega Seamaster that originally retailed for about $1,000 was recently being offered for $3,895 — giving its owner a potential profit of about 289%.
Beware!
Keep in mind, all the typical caveats about investing apply here:
For example, don't invest more than you can afford to lose; invest in what you know; and be sure to dip your toe into the water before diving in.
Furthermore, many alternative investments aren't entirely "liquid." That means they can't necessarily be converted into cash at the snap of your fingers.
So don't invest your rent or grocery money into these offerings.
But if you're looking to invest in "statement pieces" like the rich, platforms such as Otis and Rally are a great place to start!
Happy Investing.
Best Regards,



Founder
Crowdability.com