A story on Yahoo Finance caught my eye last week.
Watches of Switzerland (LSE: WoS), a British retailer focused on fancy watches, reported a blow-out quarter. Its sales soared to nearly half a billion dollars.
Given the turmoil in the markets and the anxiety of consumers, I found this odd. So I dug into the company's financial statements — and soon I found the smoking gun: revenue growth for one specific division of WoS was up a stunning 88%, year-over-year. 
88% growth doesn't happen by chance. So I kept digging. And before long, I found a watch-industry study from consulting giant McKinsey and Co. that cleared up the mystery:
As McKinsey reported, the one area where WoS had experienced extreme growth "has become increasingly attractive, and it is set to be the industry's fastest-growing segment."
Today I'll tell you what this fast-growing area is…
Then I'll reveal how to get in on the action yourself.
Second-Hand Profits
To set the stage here, let's back up for a moment.
In August of 2023, Watches of Switzerland had a scare. One of its competitors, a retailer called Bucherer, was acquired by Rolex.
Would Rolex start shipping all of its new inventory to Bucherer instead of to Watches of Switzerland? If so, the sales (and stock) of WoS might take a big hit.
But as WoS's last quarter showed, there's more to luxury watches than shiny new objects…
You see, the division responsible for the 88% growth rate I mentioned earlier came from WoS's Pre-Owned group. In other words, second-hand watches have been flying off the shelf.
Based on its own results — and based on second-hand watches being the industry's fastest-growing segment — WoS now believes it can double its sales and profits by 2028.
So, what's the takeaway here? Should you invest in WoS?
Not so fast…
An Alternative to Stocks
Earlier this month, I revealed something surprising about the wealthy:
They hold just 31% of their assets in stocks.
In contrast, they hold about 50% of their assets in alternative investments. Such alternatives include startups, private real estate deals, and collectibles like art, wine, and watches.
Why would they do such a thing? Three main reasons:
First, for diversification.
Secondly, as a hedge against inflation.
And thirdly, because such alternatives can provide market-beating returns! To see what I mean, look at this chart: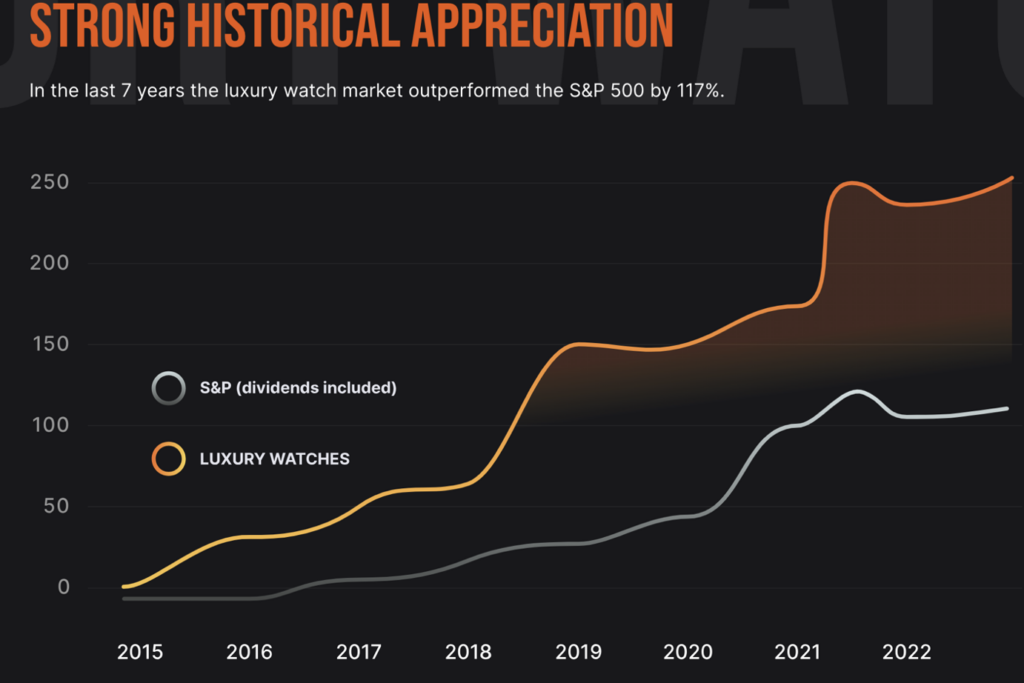 In recent essays, I've shown you watches that sold for $7.2 million, $17.7 million, even $31 million.
But as investors, the "trick" here is understanding how to get access to such watches before they become so valuable, and for just hundreds of dollars instead of millions.
Three Ways to Invest in Collectible Watches
Over the years, I've introduced you to websites like Otis and Rally, where you can invest in various collectibles including multi-million-dollar watches.
You can invest as little as $100 or so. And when the item sells in the future, hopefully at a substantial profit, you'll receive your share of the proceeds.
Today, I'll introduce you to a third such website — one that focuses exclusively on watches.
It's called Elephants.
Introducing: Elephants
Elephants is a new startup from Switzerland where you can buy shares in valuable watches.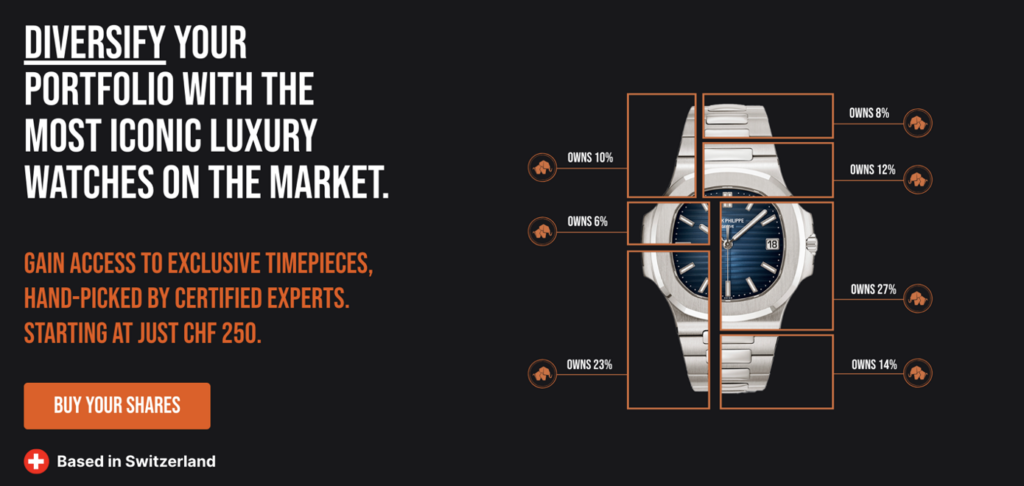 Here are a few details about how it works:
Data Focused. Rather than going with a gut feel, the company uses data to identify the best investments. As the company noted, "We are passionate about watches, but fully rely on data and quantitative analytics." That's why it provides users with dynamic-pricing information, proprietary analysis, and trend information.
Security Focused. The company is also deeply focused on security. All of its assets are authenticated, stored in secure vaults in Switzerland, and insured.
Open to All. Anyone can buy a fraction of one of its watch investments. Non-accredited investors are welcomed, as are international investors. 
Beware!
Keep in mind, all the typical caveats about investing apply here:
For example, don't invest more than you can afford to lose; invest in what you know; and be sure to dip your toe into the water before diving in.
Furthermore, many alternative investments like watches or wine aren't entirely liquid. That means they can't necessarily be converted into cash at the snap of your fingers.
So don't invest your rent or grocery money into these offerings.
But if you're looking to take advantage of the growth in the pre-owned watch market, platforms such as Otis, Rally, and Elephants are a great place to start!
Happy Investing.
Best Regards,



Founder
Crowdability.com